Nurse Aide Training
Our program provides comprehensive theory and extensive clinical training that can get candidates working in as little as 19 days.
Why should I choose this program?
Whether you're looking for a new job or starting a new career in nursing, HVA Senior Living Alliance's Nurse Aide Training Program will put you on the right path. With our onsite training, you will be prepared to take your control of your job and help those around you.
What are the next steps?
Contact HVA Senior Living Alliance. You can either email, call 814-833-1609 or fill out the contact form to receive more information.
---
Other frequently asked questions:
How much does the program cost?
The best part about this program is that your tuition for training and testing is reimbursed after successfully working 260 hours.
Tuition $1500
Textbook $50
Criminal History Record Information $22
FBI Background check $25.25
TB Testing $20
State Testing Fee $135
How long does the program take?
The program can be completed in as little as 19 days. Classes are held:
Classes and lab: Monday-Friday, 8 a.m. to 4:30 p.m.
Clinical training: Monday-Friday, 7 a.m. to 3 p.m. at an approved site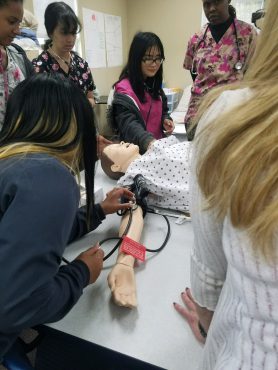 Where can I work?
There are HVA Senior Living Alliance senior living communities located throughout northwest Pennsylvania. You will be provided with as much information as possible on open positions for these senior living communities. Outside of senior living communities, you can also work in long term care, hospitals, home care, physicians' offices, and rehab.
---
Act 16 of 2019 - Fostering Independence through Education Act
Student Eligibility Requirements:

• Student must be accepted to the postsecondary institution.
• Student must be awarded all grants and scholarships for which the student qualifies.
• Student must be eligible for the PA Chafee Education and Training Grant.
• Student must be a youth who was in foster care after age 16.
• Student must be under age 26.
• Student must be a current PA resident.
Point of Contact to help eligible students apply to the institution, access services, and apply for financial aid.