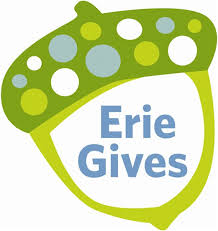 What is Erie Gives?
Erie Gives began in 2011 in honor of The Erie Community Foundation's 75th Anniversary. Erie Gives 2020 will take place on August 11, between the hours of 8 a.m. and 8 p.m.
During this 12-hour period of online giving, The Erie Community Foundation will match a percentage of each donation you make to your favorite nonprofit(s) when you donate through this website
Questions for Donors
When does Erie Gives begin and end?
The event takes place on August 11. You have 12 hours to make your donation between the hours of 8 a.m. and 8 p.m. EST. Erie Gives will be an exciting day! Throughout the 12 hour period, we will post how well the nonprofits are doing on the Erie Gives website, The Erie Community Foundation's website, Facebook and Twitter.
Why don't I see the nonprofit I want to donate to?
To participate in Erie Gives a nonprofit must serve Erie county, be a 501(c)(3) and either be a member of The Nonprofit Partnership or have an Agency Endowment with The Erie Community Foundation to participate in Erie Gives. Nonprofits have until July 24, 2020 to register for Erie Gives
Is there a minimum donation?
The minimum gift is $25. There is no limit to the amount of money you may give. There is no limit on the number of organizations you can donate to in a transaction.
Can I write a check instead of giving with a credit card?
To be fair and accurate, at the time of giving, we must only accept credit OR debit cards. Checks can take up to 2 weeks to clear. The cost of labor to process the checks and manually record the donation information would outweigh the credit card processing fees.
Plus, one of the goals of Erie Gives is to teach people how easy it is to make an online gift. Giving online is fast and efficient.
What types of credit cards are accepted?
Only Visa, Master Card and Discover will be accepted. Debit Cards will be accepted too. American Express charge higher processing fees. Credit card gift cards will not be accepted.
Why can't I use my credit card gift card?
Credit card gift cards normally take a 5% processing fee. While normal credit cards can take up to a 3% processing fee. Please note that donors do not pay the 3% processing fee. How this works, for example, if you make a $100 gift to a nonprofit, you receive the full $100 tax write off, but the nonprofit receives $97.
When will I know how much the nonprofit(s) I gave to made? Will I be notified?
We plan to have the results posted on this site as soon as possible. We will also notify all donors when this list is available.
When I donate, what will The Foundation do with my contact information?
All donor contact and gift information received during Erie Gives will be sent to the respective organizations after the final numbers are calculated and checks are distributed.
The Foundation DOES NOT solicit donors with annual appeals and as such we will not solicit donors using the information acquired during the Erie Gives program.
We will maintain the information to invite all participants the annual meeting, annual report and newsletters.
All donors will receive a gift acknowledgement letter for their tax-deductible gift and each organization is encouraged to send their own personal thank you note to their donors.
What if I do not have an email address?
If you do not have an email address, please call us at 814-454-0843.
I have more questions, who can I contact?
Please email Khristina Bowman.